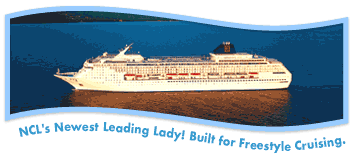 our boat!!!
Links that will be useful to those of you that already booked, and will be motivation for the rest of you to book now:
Les & Lynn's site - Rock The Boat - these are the booking agents you MUST use if you're going to cruise with moe. - if you book the same trip through another agency, you will not be able to see the moe.shows on the boat.
Our itinerary - where and when we'll be in what ports.
Port plans - How well planned do you want to be? Plan your port trips prior to sail.
Info for first time cruisers - a handy list of what to bring and to expect.
Norwegian's Freestyle Cruising - some information about Freestyle Cruising - the style of cruise this is.
Norwegian Sun - our boat. :)
Details on the Sun - Tons of info about the things on ship, rooms, activities.
Facilites of the ship - fear not all, there's an internet café.
Jendy's moe.cruise roommate site - want to go, but need a roommate? One of our dedicated moe.rons made a site for you to meet others looking for someone to bunk with.
moecruise.com - Message boards for fellow cruisers
moe. cruise group - Yahoo! group to discuss the cruise
Looks like moe. will be playing the Stardust Lounge - capacity - 1,000 people.
moe.'s cruise info: Ripped directly from the .org with no permission whatsoever (sorry!)
Would you like to CRUISE THE CARIBBEAN
with Al, Jim, Rob, Vinnie and Chuck?


ROCK THE BOAT CRUISES & CRUISE PLANNERS INVITE YOU TO JOIN moe.
AS THEY SAIL FROM MIAMI ABOARD THE AMAZING
NORWEGIAN SUN
MARCH 7TH - MARCH 14TH 2004

PORTS OF CALL:
***MIAMI***JAMAICA***GRAND CAYMAN***COSTA MAYA***COZUMEL***
THE BAND WILL PERFORM THROUGHOUT THE WEEK

PRICING
Prices will go up, based on availability.
The following prices are per person based on double occupancy:
Inside Staterooms starting at $679 ($649 rooms sold out)
Oceanview Staterooms starting at $ 789
Oceanview Staterooms with Balcony starting at $ 979
FYI: Children two years old and under travel free except for port taxes and government fees
Other children pay $ 309.00 when traveling with two full-paying passengers.
There is additional charge for every person of:
$ 229.00 for Port Charges and Government Taxes (the present rate)
$ 100.00 for an entertainment fee for the Band (children 12 & under- no charge)
Ask us about Norwegian Cruise Line1s Air/Sea Program that provides airline reservations and transfers between Miami Airport and the Sea Port in Miami.
We have a block of staterooms in each category that are guaranteed at the lowest prices. You can insure the stateroom category of your choice and lock in these rates by contacting Lynn & Les Berger of Rock the Boat Cruises.

POLICIES & PROCEDURES
There must be one person 21 or older (at time of sailing) in every cabin per Norwegian Cruise Line.
A minimum deposit of $500.00 per cabin will be charged for a cabin with one or two passengers. Additional passengers will require an additional $250 deposit per passenger.
Your deposit is refundable until December 15, 2003 with the exception of a $100.00 per cabin cancellation administration fee assessed by Rock the Boat Cruises. Final payment is due in November 2003.
Once final payment has been made, Norwegian Cruise Line will impose a per-person cancellation fee. Their current policy is:
59-30 days prior to sailing: $250
29-8 days prior to sailing: 50% of total charges
7 Days or Less: 100% of total charges
There will be a $25 administration fee charged by Rock the Boat Cruises for any change made to the reservation. After September 2003 the administration fee will be $50. Depending on the proximity to the sailing date, there may also be a change fee assessed by the cruise line.
Once booked, the cabin is jointly "owned" by all passengers registered in it. In the event that one person cancels, the remaining person(s) is financially responsible for the total cost of that cabin. Remember, cabin prices are based on double occupancy. Any refunds will be negotiated between the cabin mates.
moe. ID's will be required at all of our closed group functions. No one will be admitted without the required identification. The only way to obtain this ID is to book the cruise through our group with our coordinators Rock the Boat Cruises.
In the event that someone is inadvertently admitted to one of our private functions, that person will be asked to leave immediately. Your help in enforcing this procedure will be greatly appreciated by all concerned.
This policy has been created in order to protect the passengers in our group, as well as the band and Rock the Boat Cruises.
The band is coming aboard as passengers and will not be employed by Norwegian Cruise Line. They will play at private venues.

BOOKING INFORMATION
To make a reservation, we will need the following information for EACH PASSENGER:
*Legal Name : Each passenger must have a Passport (preferred) or Birth Certificate (original or State certified copy) plus a photo ID issued by a governmental body. If your name has changed due to marriage, divorce or adoption, you must furnish the legal document indicating this change at time of boarding. This is the current requirement, subject to change if ordered by the U.S Department of Customs and Immigration.
*Country of Citizenship
*Date of Birth
*Mailing address
*Phone Numbers : Home, cell and business
*E-mail address : If you do not have your own, we ask that you furnish us with the e-mail address of a friend who will keep you apprised of our frequent mailings. If that is not possible, there will be an additional $25 fee for postage & handling per reservation mailing address. If individual passengers in the cabin have separate addresses, this charge will be per address. Each passenger or household must receive our mailings.

FOR MORE INFORMATION
Go to www.rocktheboatcruises.com or
E-mail us at rocktheboatcruises@bigplanet.com
Call Lynn & Les at 954-922-1015 9:30 AM and 9:30 PM EST

TO BOOK YOUR RESERVATION
CALL Lynn & Les Berger of Rock the Boat Cruises at 954-922-1015 between 9:30 AM and 9:30 PM EST