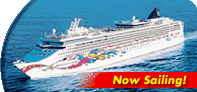 our boat!!!
links - moe.info - moe.cruise 2004
Links that will be useful to those of you that already booked, and will be motivation for the rest of you to book now:
Les & Lynn's site - Rhythms at Sea Cruises - these are the booking agents you MUST use if you're going to cruise with moe. - if you book the same trip through another agency, you will not be able to see the moe.shows on the boat.
Booking info - all the price & room information, through Rhythms at Sea Cruises.
Our itinerary - where and when we'll be in what ports.
Port plans - How well planned do you want to be? Plan your port trips prior to sail.
Info for first time cruisers - a handy list of what to bring and to expect.
Norwegian's Freestyle Cruising - some information about Freestyle Cruising - the style of cruise The Jewel is.
Norwegian Jewel - our boat. :)
Details on the Jewel - Tons of info about the things on ship, rooms, activities; fear not all, there's an internet café.
Deck Plans - layout & amenities of the rooms.
moecruise.com - Message boards for fellow cruisers.
Looks like moe. will be playing the Stardust Lounge - capacity - 1,000 people.
moe.'s cruise info: Ripped directly from the .org with no permission whatsoever (sorry!)
OCTOBER 24, 2005::

MOE. 2007 CRUISE ANNOUNCED::
moe. is happy to announce that they are once again collaborating with Les and Lynn Berger of Rhythms at Sea Cruises (formerly Rock the Boat Cruises) on their 2nd music cruise. The cruise will take place January 7-14, 2007 on the the Norwegian Jewel. Fans will be treated to a different itinerary this time: the ship will head east out of Miami and hit the ports of San Juan (Puerto Rico), St Johns (Antigua), St. Thomas (US Virgin Islands) and Great Stirrup Cay (Bahamas).

The Jewel is Norwegian Cruise Line's newest ship. This is the crowning jewel in their incredible fleet of Freestyle Ships. She shines from bow to stern with an incredible array of outstanding amenities including:
10 distinct restaurants
13 bars and lounges
3 swimming pools
spa and more!

moe. will play throughout the week on the ship and fans will also have plenty of time to enjoy all the entertainment the ship has to offer. The band and their families look forward to sharing another magical weekend with everyone. Space is limited, so please watch www.RhythmsAtSeaCruises.com for all the latest info. Please note there might be a slight delay in info being posted by Rhythms at Sea because of Hurricane Wilma.
Tickets go on sale November 15th.